THE CALCULATING MACHINES

(DIE RECHENMASCHINEN)

THEIR HISTORY AND DEVELOPMENT

Ernst Martin

translated and edited by Peggy Aldrich Kidwell and Michael R. Williams

©

1992 by The Massachusetts Institute of Technology and Tomash Publishers. This work originally appeared in German under the title Die Rechenmaschinen und ihre Entwicklungsgeschichte. © 1925 by Johannes Meyer. Pappenheim.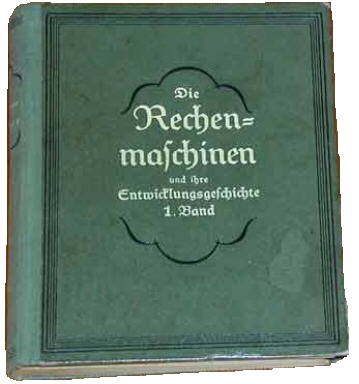 click on the picture to launch the book (*.pdf, 6.9 MB)
Note: In the effort to make the book searchable, we used a process called Optical Character Recognition (OCR). Occasionally there are some OCR errors in the book (mainly formatting, i.e. bold or italic instead of normal), but they are relatively rare and will be corrected in a future version.
Stephan Weiss maintains a list of comments and corrections of Martin's book.


massachusetts institute of technology
We would like to thank MIT Press for the permission to reproduce "The Calculating Machines" on the website.